Steam was officially released for the Mac the other day. For a limited time Mac users can get the awesome game Portal for free. I've been wanting to try out Portal for a while now and I finally got a new 27 inch iMac last week. Yay! Time to install…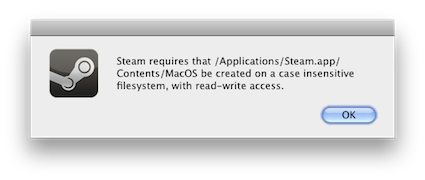 FAIL.
No, I will not be reformatting, creating another partition, or using .dmg hacks to get this to work. I understand Steam delivers unmodified Windows games (which expect to run on case-insensitive filesystems) but there is obviously an engineering solution. This dialog shows Valve's engineers thought about the problem and rather than fixing it decided to take the easy way out.
Apparently Adobe has plenty of engineers who think this method of engineering is acceptable:
I was planning on buying CS5 for my new iMac, but it looks like I will now spend my money elsewhere. Maybe I'll give GIMP a try again, it looks to have progressed since I last played with it.
If case-insensitivity is too hard for your engineers hire better engineers. Perhaps redirect some of the marketing budget from those expensive advertisements? Damn it Adobe, you have access to the source and the engineers who wrote it. Why can't you make your own product work?
It's not like case-sensitive filesystems are unsupported by Apple either. When I worked on the Apple Software Update team, case-sensitivity bugs were valid and we would never tell the reporter to reformat. I know a large percentage of Apple engineers run case-sensitive as well. This is a valid configuration that is supported by Apple and in turn should be supported by application developers.